Curtains are excellent choices to cover and adorn your room windows. The cleanliness of curtains is the first thing that you should take into account after purchase. Dusty curtains are not only unpleasant but they can be an issue for people with allergies. They don't look fresh and visually appealing when they are not regularly cleaned and maintained.
The cleanliness of curtains is necessary to avoid the build-up of dust. Curtains cleaning is performed based on the type of fabric and its strength. If you are in search of tips to clean your curtains, don't go anywhere else. In this guide, Dubai Curtain shared different ways to clean your curtains.
Watch Our Step By Step Guide For Curtains Cleaning
Curtains cleaning is quite simple when you have all the required tools available along with an expert guide. Depending on the type of fabric, there are different ways to wash curtains. Let's begin with gathering the right tools and materials.
Tools & Supplies
Following is the list of the tools and supplies required to effectively wash your curtains.
Cleaning brush
A microfiber cloth
Washing machine
A tub or bucket
An Iron and pressing cloth
Vacuum or steam cleaner
Dishwashing soap
Commercial cleaners
Test For Color Fastness Before Curtains Cleaning
Testing the fabric is the safest route, to begin washing curtains. Although your curtains seem to be the right fit for both machine and hand washing, testing the fabric to ensure that they will not get faded is the crucial step to take.
To check that fabric color gets ruined or fades, test with the small hidden corner of the curtains. Use warm water and detergent to ensure if it is fade-resistant or not. If it does fade or you notice any change in the appearance of the curtains, take your drapes to professional cleaners.
Consider The Fabric Type
The type of fabric curtains decides the way to clean your drapes. Curtain fabrics come with many options and each is different in weaving and appearance. Some curtains can be machine washed including cotton, polyester, linen, nylon, or other non-delicate materials. However, sheer, silk, velvet, and organza are the curtain types that need to be treated gently and cannot be machine washed.
1. Clean With a Vacuum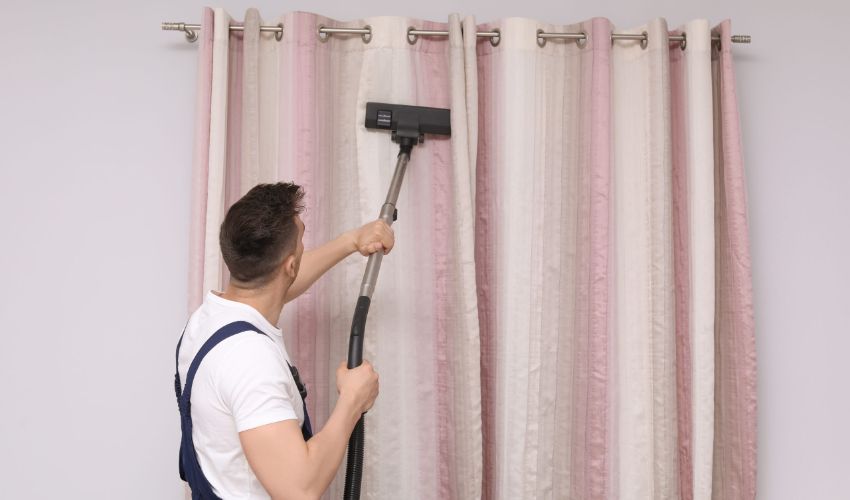 The first and foremost best way for curtains cleaning is by vacuuming with a soft brush and an upholstery attachment. No matter what type of curtain, to keep them looking neat and fine, daily dusting is required.
Close your curtains completely and use a brush or upholstery attachment over the surface. Use it from top to bottom and don't forget the edges that meet the windowsill or floor and collect dust.
2. Deep Cleaning Of Curtains
For deep cleaning, take out curtains from the rods and give them a good shake before cleaning to ensure that any dust particles can be removed. After checking the manufacturer's instructions, and ensuring that the fabric is eligible to be machine washed, put your curtains on a gentle cycle.
For lightweight curtain cleaning, you can fill a tub full of warm water and add a mild detergent to it. Gently rub the curtains until the accumulated dust and stubborn stains get removed. Don't use detergents with harmful ingredients that can damage the fabric.
3. Dry & Spot Cleaning Curtain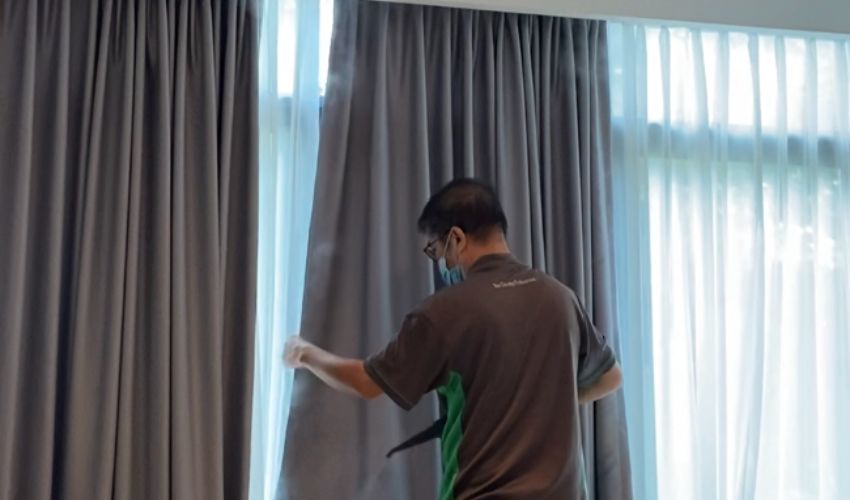 The best thing to keep your curtains clean is spot cleaning. As soon as the stain gets on the fabric of the curtains, treat them right away. For spot cleaning, you can use vinegar solutions or baking soda that will effectively remove the stains. Besides home remedies, an effective cleaner can be used to spot-clean your curtains.
For heavier drapes like crushed velvet and other materials like brocade, suede, rayon, silk, and satin, it is suggested to dry clean them instead of machine wash. Curtains with beads, lining, and other embellishments should be dry-cleaned.
4. Use A Steam Cleaner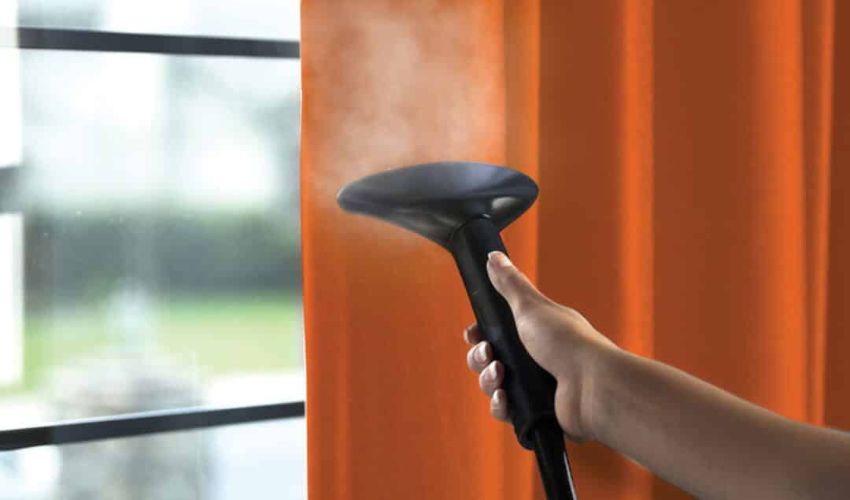 One of the best ways to clean your drapes is the steam method. This method will remove the creases and wrinkles from curtains and neaten them up. Use a hand-held steamer and set it to the right heat. Use steam cleaner from top to button and in large sweeping movements. Velvet curtains should be steam cleaned from the lining sides. Air dry these curtains properly to keep the moisture and mold away. Don't let the water or steam on the face of the fabric to avoid permanent damage.
5. Use A Stain Remover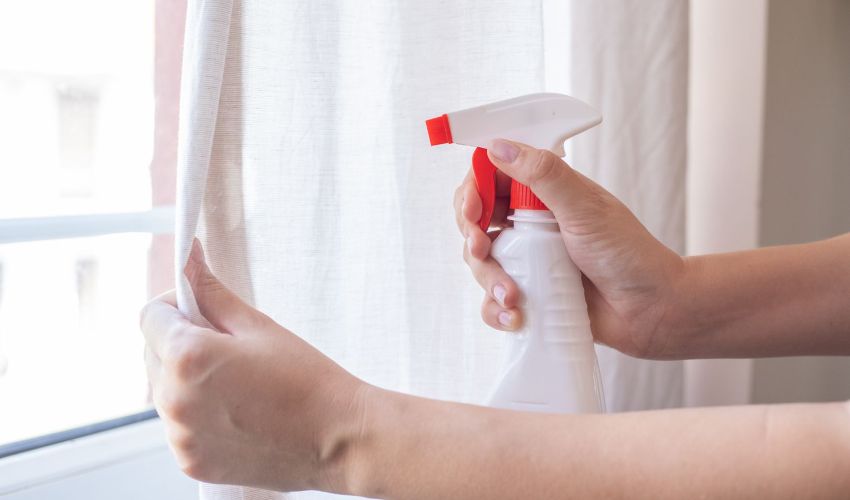 Stain removers can be used to get rid of stubborn stains and restore the drape's look. These stain removers must be tested before usage to ensure that they won't damage the color and fabric of curtains.
Final Note!
Curtains cleaning is mandatory not only for their fresh look but from the hygiene perspective as well. To clean your window drapes expertly and in the right way, it is important to dust off the dirt from curtains regularly. Spot cleaning is the ideal way to ensure the stunning look of curtains for many years.
Hand washing is suggested to clean the delicate curtain fabrics. This guide covers all the best possible methods and ways to wash different types of curtains. The above-mentioned tips will help you enhance the longevity of curtains and keep them in good condition for a long time.