Curtains are one of the most popular window treatment options. They create a sense of serene ambiance in the interior and are available in a versatile collection of amazing options for perfect choices. The perfect choice of window curtains is sure to transform your living spaces into a spellbinding retreat.
However, the large number of choices available on the market makes it downright intimidating. You're too lucky to have come across this informative piece of writing by Dubai Curtain. In this post, we'll walk you through the varieties  and types of curtains to help you make an ideal choice.
Understanding The Varieties and Types Of Curtains
Curtains as window treatments glorify modern and traditional living spaces alike. They come in various sizes, colors, styles, patterns, prints, and textures. Your choice of curtains for dressing home windows is a reflection of your personal preferences and therefore, should be a considerate decision. Let's explain to you the various curtain varieties for a perfect choice.
1. Blackout Window Curtains
If you want to dress your bedroom windows to enjoy peaceful sleep, there's nothing better than blackout curtains. As the name indicates, these curtains function to create completely dark interiors because they block light entering the interiors.
These curtains are constructed using specific blackout yarn fabric that is layered between consecutive layers of fabrics. And, the same is the case for thermal-insulated curtains but with a thick fabric layer sandwiched between fabric materials. Blackout home curtains are quite popular because they improve interior aesthetics.
Don't get confused with the term blackout because these curtains are available in a wide variety of color options. Thus, you can make a complementing choice to dress your bedroom windows and enjoy interior decor upgrades.
2. Panel Pleated Curtains
Speak of elegance and gracefulness combined in a window treatment option and you'll find pleated panel curtains among the choices. The top of the curtain panel comprises pleats created by folding the fabric material in multiple layers. That's the reason why these curtains are highly recommended by homeowners for significant aesthetic enhancements.
The individual pleats combine when curtains are opened and offer a classy appearance. You'll find this style of curtains timeless and offering a pure sense of sophistication. Hence, you can purchase these curtains to match modern interior decor settings.
3. Formal Curtain Appearances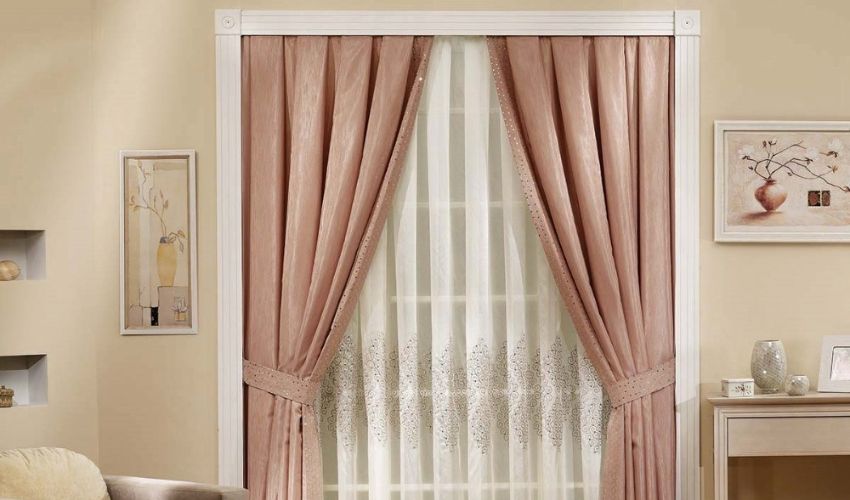 Looking for adding to the interior beauty with simple, timeless, and delightful dressing for the windows? There's nothing better and more cost-effective than purchasing single-panel curtains. It's the first image of curtains created in an individual's mind i.e. large fabric panels covering the windows.
You can either have sheers or standard options as per your preferences. Most commonly, these curtains are recommended for small-sized windows just as in kitchen interiors and your room's balcony window.
4. Pinch Pleated Curtains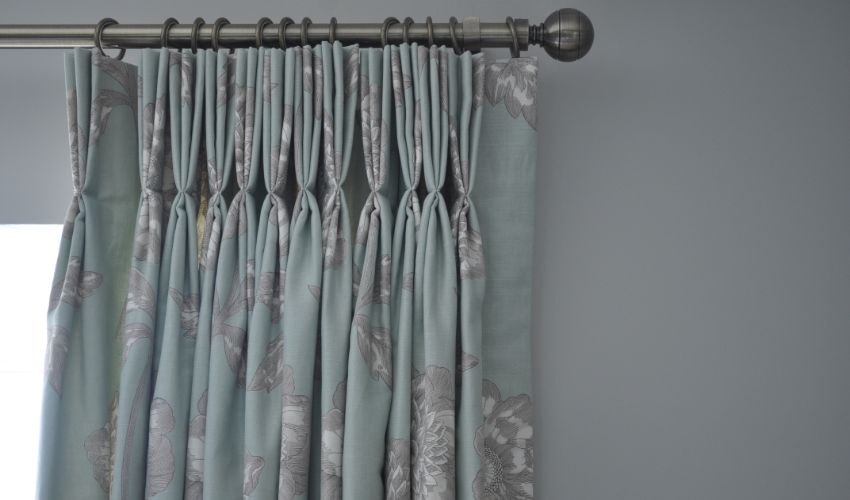 Another type of window treatment that can add a unique decorative touch to your home windows is the pinch-pleated curtain style. The former classic variety includes a pinch style created by folding three fabric layers and combining them at the center to form a fan-like detail.
The pleated folds slowly spread out towards the ground offering a delightful sight and imparting the cause of elegance to this curtain style.
5. Eyelet Window Curtains
Need a smooth functioning curtain panel that looks lovely as well? Your ultimate choice is grommet or eyelet curtains. The curtain rod passes through metallic or plastic rings embedded at the top of the curtain panel.
The rings are equally spaced apart and that's how pleats are formed when the curtain rod is passed. Speaking of curtain aesthetics, these curtains offer a modern, uncluttered, and appealing appearance.
6. Tab Top Curtains
Looking for something unique as a window treatment that can create an impression on the viewer's memory? You should go for tab-top curtains to dress living room windows. This style of curtains is a major aesthetic highlight due to its characteristic appearance.
You don't need to have curtain rings for hanging them because they come with sewn-on-ties or sewn-on-loops that pass through the curtain rod.
7. Length-Wise Curtain Types
While exactly it's not a curtain type, there are various types that come under this umbrella i.e. floor-length, apron-length, puddle-length, etc. Floor-length curtains are the trendiest of all options because they significantly improve interior decor with their timeless elegance.
Apron-length curtains are also popular and are sure to fit your preferences if you are always up to experimenting with new curtain styles. These curtains fall just a few inches below the window sill and therefore, are the ideal choice for dressing kitchens and bathroom windows.
Puddle-length window curtains are a minimum of six inches more than the ceiling-floor length thus, puddle/pool on the ground. These curtains create a quite dramatic effect and are suited to royal interiors.
8. Sheer Curtains
Also known as light-filtering curtains, these window curtains create a well-balanced interior in terms of privacy protection and extent of illumination. Thus, sheers help you enjoy well-controlled illuminated interiors without losing privacy i.e. they filter incoming light.
Speaking of construction, these curtains comprise loosely woven fabric materials like cotton or polyester that are quite thinner in comparison to other fabric varieties. Sheer curtains are commonly used in combination with blackout curtains as layered window treatments.
The End Note
There are various types of curtains available on the market. Not all types of curtains are suitable for bedrooms or living rooms and you need to make specific purchases for bedrooms, living rooms, and other interiors. Blackout curtains fit best the bedrooms and living rooms while single-panel curtains are suited for small-sized windows just as in kitchens or bathrooms.